Ellis Mobile Chiropractic was established to fill a need within the healthcare industry; a need to put the patient's care above and beyond the interest of the practice itself. Dr. Ellis' vision was to design a practice model that would remove the deficiencies which exist in modern business practices, to allow for optimal treatment results rather than prohibiting successful treatment of its patients. It was clear that the only way to do this was to eliminate the demands and constraints of in-office treatment altogether and revert back to making treatment as accessible and efficient as possible.
His vision became the Mobile House Call Practice!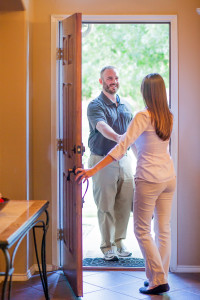 House calls are nothing new. Throughout history doctors have traveled to their patients in order to provide care. By doing this the patient is where they feel the most relaxed and comfortable during their examination and treatments. This environment sets the stage for the best possible results.  The house call practice model also allows the doctor to personally witness living conditions (or working conditions when being treated at your office) that may contribute to a patient's case, and better allow the doctor to make specific recommendations appropriate for each patient's unique circumstances.
Dr. Ellis believes that by reincorporating this old concept into today's world of healthcare, we are setting new standards for what a patient obtains through treatment; that total wellness and care always remain the highest priority and to ensure that there will never again be a reason to forego improving your health.
Request a free consultation today to discover what you can achieve through receiving chiropractic care in your own home!